If you were a basketball, would you let me lay you up?
If you were a basketball, I would never shoot you because I will always miss you.
Do you love basketball? You only need a basket cause I already got balls.
Your Jordan jersey looks nice, but I bet it'd look even more beautiful on my bedroom floor.
May I put my balls in your basket?
If you were a basketball, I'd never pA$$ because I want to keep you all to myself.
You may have heard that I'm a great ball handler. Do you want to sample my skills?
I've never made an incomplete pA$$, and I hope you won't be my first.
Hey, girl, Monta Ellis must be jealous because you, truly, have it all.
Are you on the rebound because my D. Favors you.
I hit threes all the time, but you'd be my first ten.
Hey girl, do you ref during the playoffs? Cause you look like you can swallow a whistle.
(Once she gets out of a relationship)Aye girl, are you Dennis Rodman? Cause I'll be your rebound.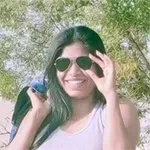 About Annie Rosy
Annie is a writer who likes to focus on funny pick up lines. She enjoys making people laugh and feel good, and thinks that using a clever line can be the perfect way to start a conversation. When she's not writing, Annie loves spending time with her friends and family. She's always up for trying new things, and is always looking for ways to make life more fun.